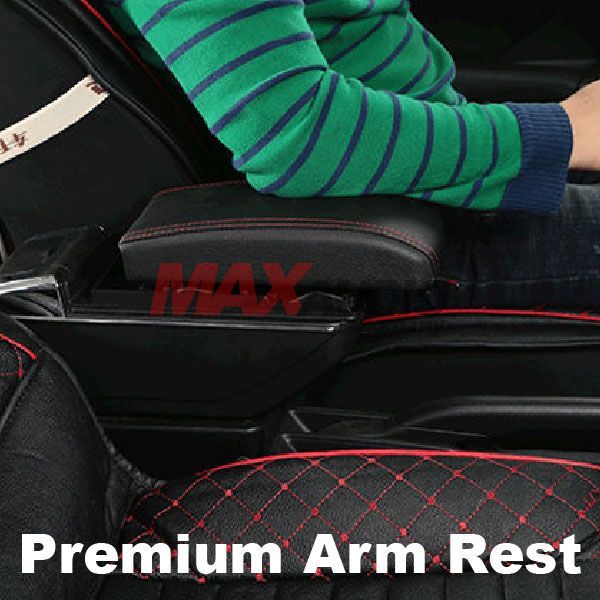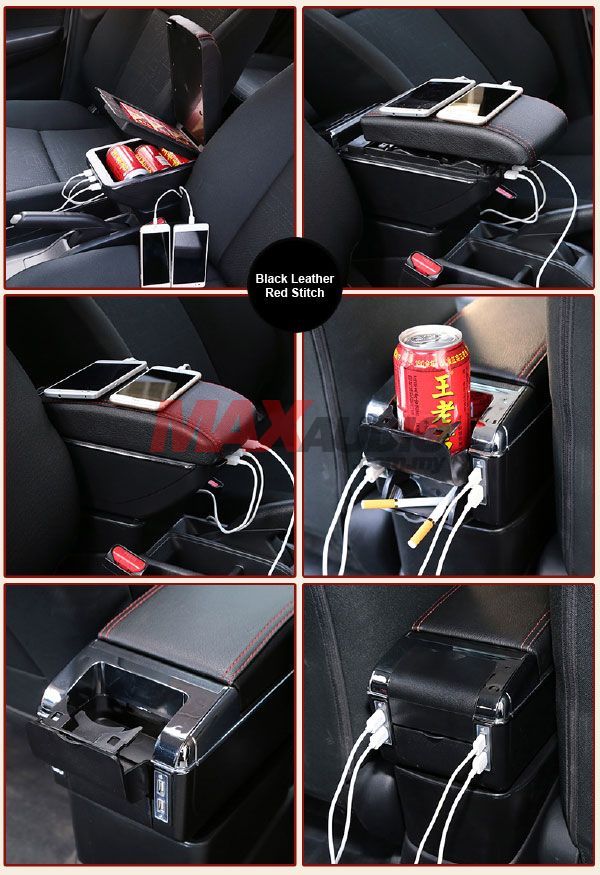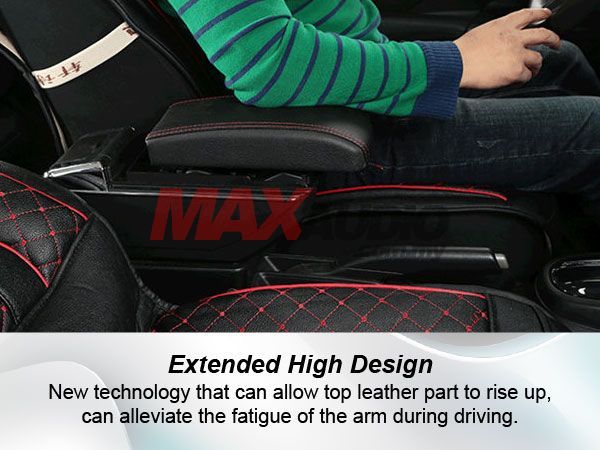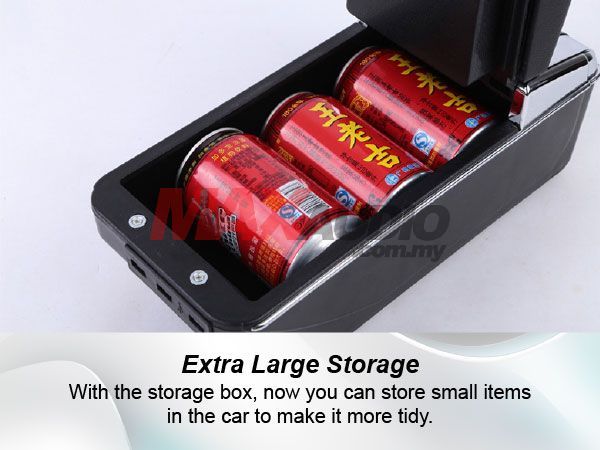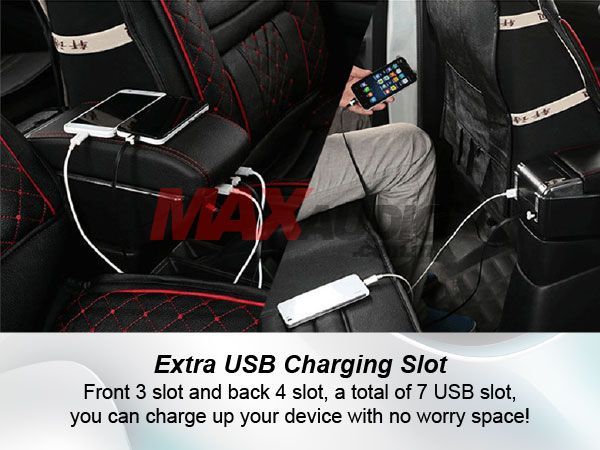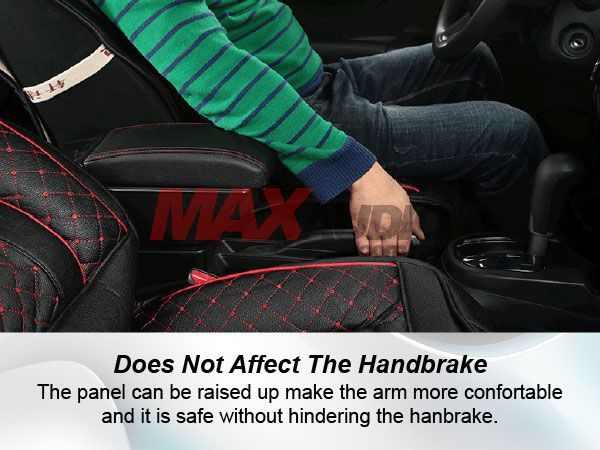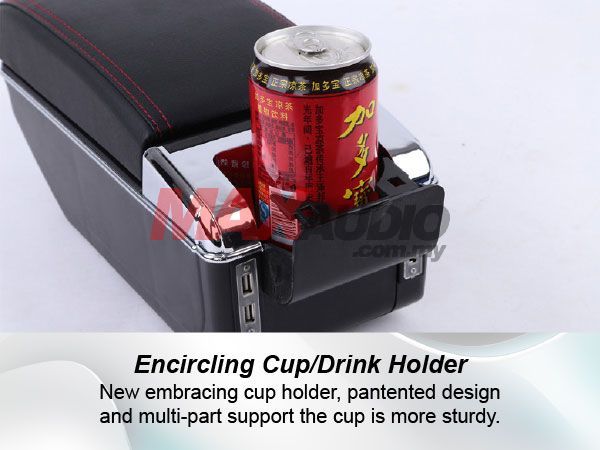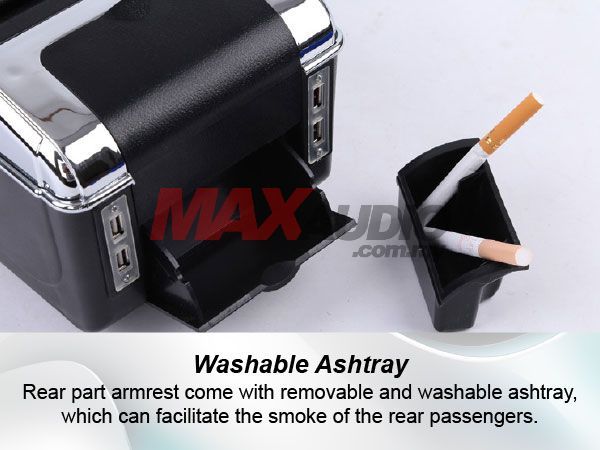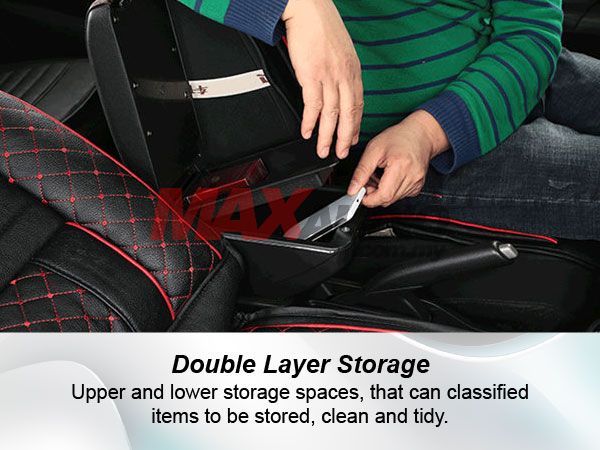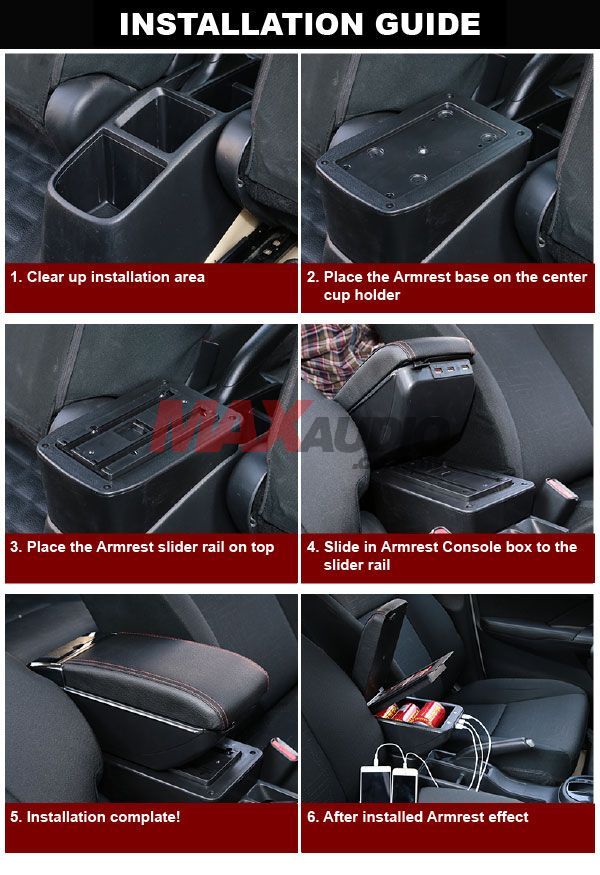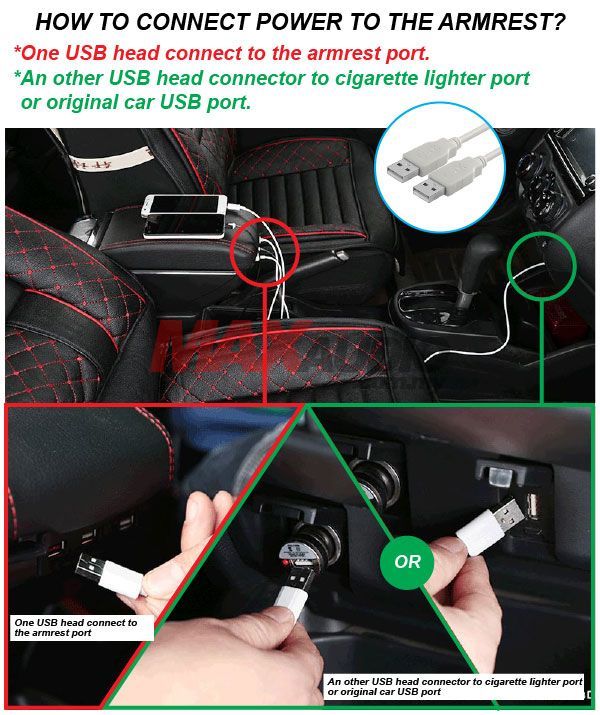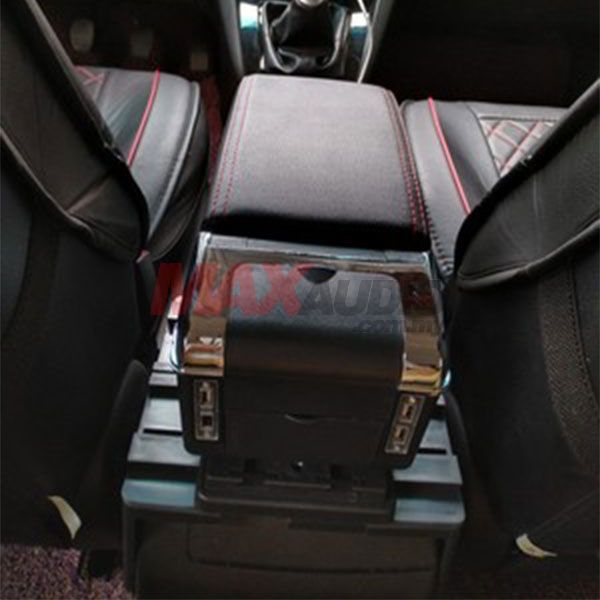 MOST CARS Premium Quality Adjustable Black Leather With Red Stitch Arm Rest with USB Charger Extension & Cup Holder
ATTN: CAR LOVERS, HARDCORE TRAVELLER, FRIENDLY CAR PULLERS, HARDWORKING GRAB CAR DRIVERS & RESPONSIBLE PARENTS WHO NEEDS TO TRAVEL DAILY & WOULD LIKE TO ENJOY DRIVING COMFORTABLY
Good News as today you get to travel and enjoy a comfortable ride as a responsible driver.
Mercedes Benz in the 90's have discovered the lifestyle integrating comfort and greater driving pleasure implementing extension armrest for the driver to rest their arm for long distance comfort.
======
DO YOU HAVE THIS ISSUE?
======
Imagine after work and you caught in jam traveling home and your arm holding the steering that causes shoulder pain. How frustrated and irritating will that is?
And imagine if you could sit back and relax on a comfortable couch, your back leaning against the sofa and your arm resting on the armrest. How relax will that be?
And finally imagine if it is a very heavy jam, you would pull out your phone and ease your boring with social media and you found that battery is low, so do your passenger. And there is an armrest that
have multiple USB ports to supply power to all passenger phone.
What would these passengers think about you? And what would you think about yourself as a responsible, high tech, loving and caring car owner?
Then I have great news for you..
======
HOW I DISCOVER?
======
Give me the next 3 minute of your time and I'll share how a hardcore salesman traveler that need to travel 8 hours a day visiting client after client and caught up so bad in the jam that is so frustrating and
tiring and with a small installation of a Mercedes Benz design armrest that changes my pleasure of driving and makes me motivated to travel, even more, giving me great result in my sales as I get comfort in my
ride before the next appointment without a tired face or frustrated feeling.
My name is Max, most people call me abang max
I am a car accessories seller for more than 12 years since 2006 and my vision is to transform car lovers lifestyle around the world for a pleasant driving experience and quality car lifestyle that helps men
to be more in control of their life; women for a secure driving experience and more variety of Gift to their men.
That is why I created maxaudio.com.my for advance car enthusiast with a click or swipe of your device and u are able to find lifestyle quality car accessories to spice up your boring life and allow your 2nd
wife to shine as how you want it to be according to your blueprint in mind.
I started traveling door to door, shops to shops, meeting appointment after appointment in my Honda City back then 6 years ago.
It was a tiring and tough life where I get rejected again and again by clients and customer.
The only time I felt fulfilled and gracious is when I am alone, driving my ride, enjoying great music, and telling my self that the answer and result are always at the next door.
One day, I went to Mercedes Benz showroom and I sat in an E-class. I notice that the seat is so comfortable and my arm is on the armrest at a proper height where my shoulder does not feel pressured. The armrest
is so spacious where I can keep my extra coin, smart tag, touch and go card, house key and my sunglasses.
It also comes with a USB port where I can charge my smartphone, it is so convenient and giving me joy and pleasure to buy that car.
A thought came in my mind and I am eager to make this armrest available for most cars that do not have such privilege.
So I went and search for the best armrest and is premium in quality where it won't get broke. The armrest can be extendable to fit all size of an arm for greater comfort and pleasure.
It must come with many USB Ports that can allow all passenger in the ride to charge their phones
And the leather must be soft and comfortable for a pleasure drive
And this is where I found the perfect armrest that comes with customer height and easy installation plug and plays mounting for specific cars in order that each car is exclusive like Mercedes Benz
======
IS THIS WHAT YOU WANT?
======
Would you like to have more comfort drive especially during a traffic jam?

Would it be good if there are extra space to store your frequently used tools eg: coins, smart tag, keys, and sunglasses?

Would it be great if you have an extra USB charging port to serve for phones?

Would it be great if the armrest is easy to install, plug and play and fit for your ride?

Would it be great if the armrest can be adjustable to fit your whole arm for greater comfort?

Would it be great if you are getting a premium quality armrest that can last for a long time?
======
DON'T BUY UNTIL YOU READ THIS 7 UNIQUE BENEFIT
======
Introducing All New M-SPORT Premium Quality Adjustable Black Leather With Red Stitch Arm Rest with USB Charger Extension & Cup Holder.
A whole new professional design armrest that meets your every need and gives you greater comfort
Extended Height Design - New technology elevated top cover that raises the height of the armrest for your arm to rest in full comfort

Double Layer Storage - Upper and lower storage spaces, that can classify the items, clean and tidy according to your preference

Extra USB Charging Slot - Front (3) slot and back (4) slot, a total of 7 USB slot. Sharing is caring, a caring owner shares his charger.

Does Not Affect The Handbrake - The panel is able to raise up, make the arm more comfort and it is safe without hindering the handbrake for a responsible driver that care about safety

Extra Large Storage - With the storage box, now you can store items in the car to make it tidier especially if you a particular of tidiness

Encircling Cup/ Drink Holder - New embracing cup holder, patented design and multi-part support the cup is more sturdy. Especially if you need a cup of coffee every morning.

Washable Ashtray - Rear part armrest come with a removable and washable ashtray, which can ease the smoke of the rear passengers.
======
OTHERS FEATURES
======
Color Available: Black Leather with Red Stitch

Comfortable ArmRest to rest your hand while driving

Spacious ArmRest that can contain: Wallet, Tissue, Small Umbrella & Water bottle, Hand-phone, Keys, CD Case, Pen, Notepad, Name Card Holder and Any small accessories

Adjustable ArmRest for a longer extension

High-quality furnishing

Comes with 7 USB Extension Port for device charging

Reduces muscle discomfort and fatigue

Magnetic Cover Top For easy access during driving

Cup Drink Holder

Easy installation, requires no specialist, D.I.Y Product

Quality Leather Top ArmRest

Body Material: ABS

An upgrade accessory that makes your car more luxury

Installation Screw Included for a firm fit

Sporty Look

Easy to install

Weight: 3 - 5Kg (Including Box, Accessories and Volume Matrix)
======
WHY BUY FROM US & OUR GUARANTEE TO YOU?
======
We provide 1 Year Warranty

Warranty Card Included (Online Registration)

Warranty Include: Leather defect, extension defect, USB defect, and stitching defect
======
FREE GIFT
======
Free USB to USB Cable worth RM20

Extra Bonus and Cash/ Gift Certificates

First 20 Customer gets Limited Edition Mysterious Gift
======
2 SIMPLE STEP TO CONNECTS POWER TO THE ARMREST
======
*Note: To complete this action, need to have USB to USB head cable (about 0.5m)

[STEP 1] One USB head connects to the armrest port.

[STEP 2] The other USB head connects to the cigarette lighter port or original car USB port.
======
5 SIMPLE STEP TO INSTALL THIS ARMREST
======
[STEP 1] Clean up installation area

[STEP 2] Place the armrest base on the center cup holder

[STEP 3] Place the armrest slider rail on top

[STEP 4] Slide in armrest console box to the slider rail

[STEP 5] Installation completed
======
READY MADE PERFECT FIT FOR CAR MODEL:
======
HONDA
HONDA BRV

HONDA CITY GM2/GM3 2008 - 2013

HONDA CITY GM6 2014 - 2018

HONDA JAZZ GD 2002 - 2007

HONDA JAZZ GE 2008 - 2013

HONDA JAZZ GK 2014 - 2018
NISSAN
NISSAN ALMERA N17 2011 - 2018

NISSAN MARCH 2010 - 2017 (Single Cup)

NISSAN ALMERA N17 2011 - 2014 (Single Cup)

NISSAN LIVINA, GRAND LIVINA, LIVINA X-GEAR 2006 - 2018
PERODUA
PERODUA AXIA

PERODUA ARUZ

PERODUA BEZZA

PERODUA MYVI SE1 SE2 LE 2005 - 2010

PERODUA MYVI LAGI BEST / ICON 2011 - 2017

PERODUA MYVI 2018
PROTON
TOYOTA
UNIVERSAL Fitting (Flexible Holder 10cm ~ 18.5cm)
======
NOW IS YOUR DECISION
======
You can choose not to install and nothing will happen

You can choose to get from others supplier on your risk

Or you can choose to get from us under our Guarantee Protection for 1 Year and Quality Assurance
P/S: Limited Stock are available and price changes time to time base on import currency and tax duty
1st 20 Customer gets limited Edition mysterious Free Gift
Do take this advantage if you want to say goodbye to tiring shoulder and live a new comfortable lifestyle in your ride