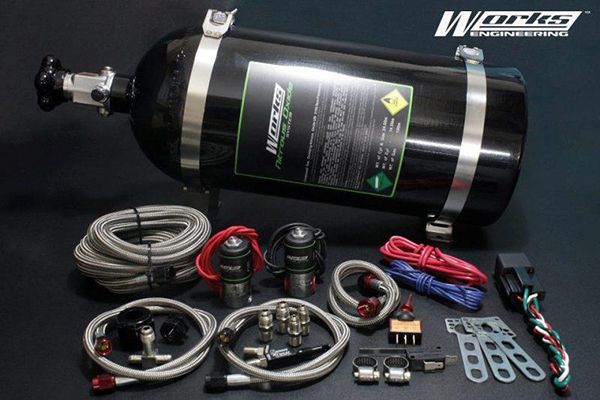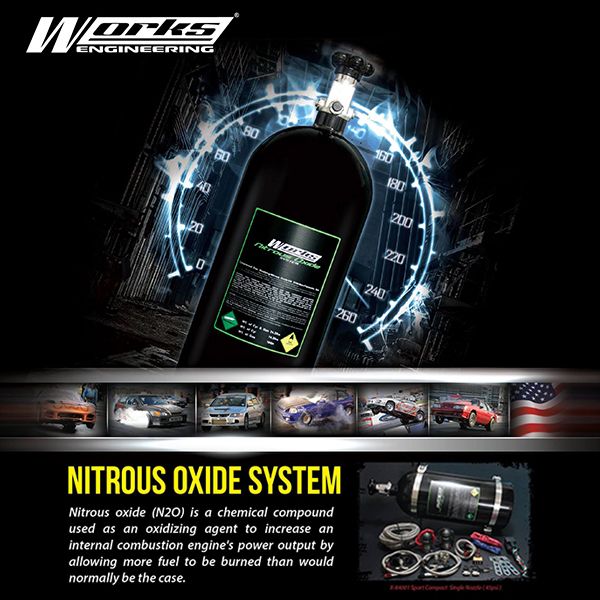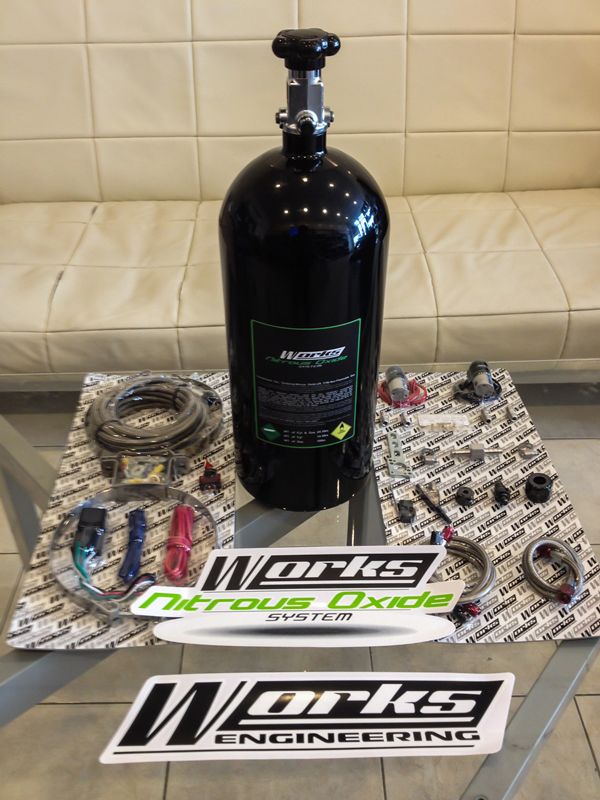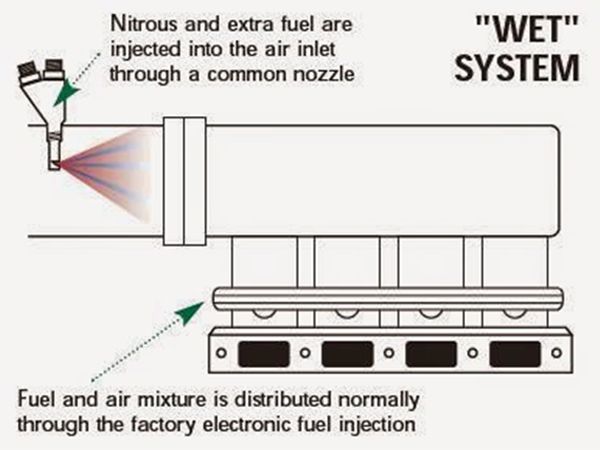 WORKS ENGINEERING Sport Compact EFI Single Nozzle Wet Nitrous Oxide System Kit (NOS)
Description
Nitrous Oxide (N2O) is a chemical compound used as an oxidizing agent to increase an internal combustion engine's power output by allowing more fuel to be burned than would normally be the case. Nitrous oxide is stored as a liquid in tanks, but because of its low boiling point it vaporizes easily when released to atmosphere.
When injected into an inlet manifold, this characteristic causes a reduction in air/fuel charge temperature with an associated increase in density, thereby increasing the cylinder's volumetric efficiency. Nitrous systems can increase power by as little as 0.5 HP (0.37 kw) or as much as 3,000 HP (2,200 kw), depending on the engine type and nitrous system type. In many applications torque gains are even greater as increased fuel is burnt at a lower rpm range and is what causes the significant improvement in acceleration.
This wet type single-point nitrous system, or in other word Works Engineering NOS mix nitrous oxide with fuel before shot it into the intake manifold. This allow intake manifold to become wet with fuel, by provide sufficient amount fuel to the engine prevent fuel puddling which cause intake backfire and maximum horsepower from the NOS.
Plus Works Engineering NOS kit works with standard fuel pump and injectors, or in other it is easy to install with no additional cost. Works Engineering NOS Kit really is Outstanding Value for Money for Horsepower Gain.
Import Nitrous System
Works import EFI single nozzle system cost effective, reliable, and simple way to get spraying on the popular import platform. Nozzle system will add the extra power to get you down the track. They come with all needed components for install, 10lb bottles, ad a pair of great solenoids. These systems can handle 200hp and are even better when paired with a accessory package.
NOTE: This item is not available for international shipping as the pressurised bottle is not allowed on flight.
Features:
Works Engineering Wet Nitrous Oxide System are designed for the budget enthusiast

Works Engineering Wet Nitrous Oxide System come complete with high flow 45degree bottle valve, 16ft 4 AN main feed line, 200hp horse power solenoids, hoses, nozzle, electrical connectors, all fitting and hardware

Easy to install and tune with various jets (35 to 70hp) configurations

A wet single-point nitrous system introduces fuel and nitrous together filling the upper intake manifold

Provides fuel enrichment by teeing off the engine fuel rail and feeding it into the injection nozzl

The system with most complete atomization of enrichment fuel

Super-fine atomization of enrichment fuel to ensure maximum horsepower and prevent fuel puddling that causes intake backfires

Easy to install and easy to tune

Complete control over the fuel system

Works with standard fuel pump and injectors

Outstanding Value of Money of house power gain

Designed to work with today fuels

Jetting from 35-75 HP

Upgradeable for HP levels up to 200 HP

Universal application for most EFI system

Technical support will be given

Money back guarantee

1 Year Warranty

Made in USA!