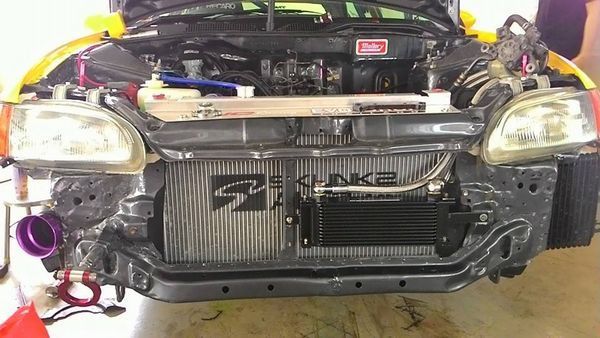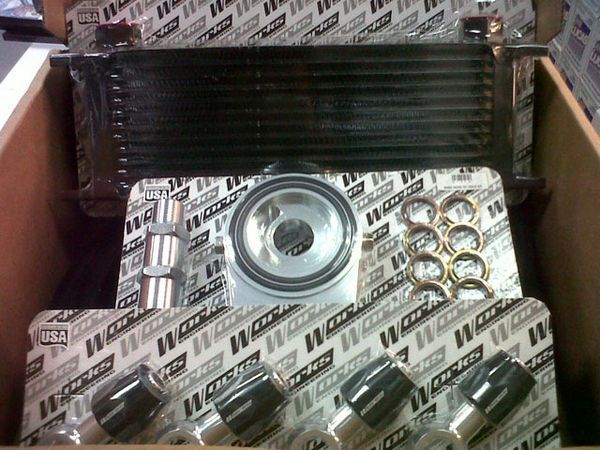 WORKS ENGINEERING 2 in 1 Engine Oil Cooler Kit with Oil Filter Relocate Adaptor [W-OCK]
WORKS ENGINEERING ENGINE OIL COOLER KIT
Oil cooler kits help prolong the life of your oil and in turn protect your internal enginencomponents. Hard driving causes higher engine temperatures. Factory oil coolers are normally small water-cooled devices sandwiched between the oil filter and engine block. These design taxed the cooling system even under normal driving conditions.
Because the latest generations of engine are smaller, run at higher RPMs & produce more heat, maintaining the correct oil temperature is imperative. In addition, most engines have less oil capacity so putting more strain on the oil and all engine components.
WORKS oil cooler kits are an excellent addition and are especially effective in harsh driving environments. With our inner-fin core design, we are able to increase oil capacity, decrease oil temperatures and extend engines and oil life. The efficient cooler cores and braided lines ensure good flow and a leak free installation. Included in the kit is a mounting plate which is also a convenient place for oil pressure and oil temperature sensors installation.
WORKS ENGINEERING OIL FILTER RELOCATE ADAPTOR
Works Universal Oil Filter Relocation adaptor moves the oil filter to a convenient location and provides extra clearance for engine swaps. You can even install the oil filter side-ways or even upside down. The increase in oil capacity also helps in better engine oil
cooling and lubrication. Universal coverage fits 98% of all automotive applications.
The kit contains the necessary adapters to convert the stock filter landing on the engine block to another location. All parts are made of billet aluminium.
Material: T6 Aluminium Billet

Comes with Engine Oil Cooler Kit and Oil Filter Relocate Adaptor

Universal Fitting for All Cars

Make Engine More Cooler

Made in Taiwan

Life Time Warranty

Total Weight: 5Kg