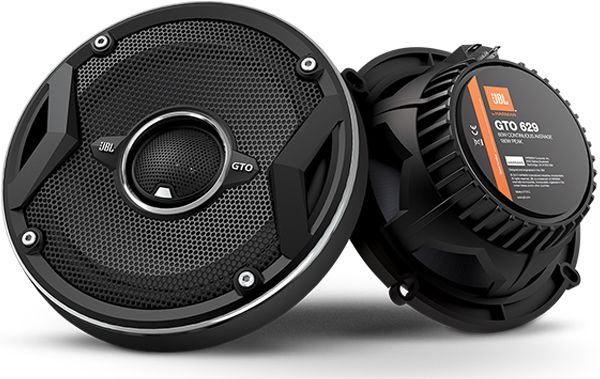 JBL GTO629 6.5" 2-Way 60W RMS 180 Peak Power 3-ohms Coaxial Car Audio Speaker with Edge Driven Tweeters System
If you're in the market for new speakers, you've just found a serious contender. JBL created their GTO629 6.5" speakers as a hi-fi solution for those who want better sound in their vehicle.
The GTO series provides a completely new musical experience in your car !
The JBL® GTO Series high-fidelity automotive speakers feature innovative technologies that we've engineered for the environment and for the conditions in today's cars to help them deliver exceptional sound. Using carbon-injected Plus One® (U.S. patent no. 7,548,631) woofer cones, fiberglass-reinforced plastic (FRP) frames, butyl-rubber surrounds and fabric tweeter diaphragms, the GTO Series' automotive speakers are the ideal upgrade to any car's audio system. GTO Series speakers, including component separates with woofer, tweeter and passive crossover, cover the most popular factory-replacement and aftermarket sizes. Other unique features – such as UniPivot™ (U.S. patent no. 6,002,780) tweeter positioning and tweeter level controls on select coaxial models, and the I-Mount™ (U.S. patent no. 5,859,917) system for the tweeters in the component separates – provide even greater installation flexibility so you can more easily achieve the ultimate in-vehicle sound experience. Easily installed and built to last, the JBL GTO Series speakers bring music to life in your car.
Patented Plus One Woofer-cone Technology
The GTO 629's Plus One carbon-injected cones provide more overall speaker-cone area than other cones in its class. With an effective increase in cone area, the speaker radiates more air. Also, its carbon-injected cone material produces a lighter and stiffer cone. The result is a better low-frequency response and a greater ability to make those important musical notes that people often associate with larger speaker sizes.
Carbon-Composite Non Magnetic Frame
25 – 180 Watts Suggested Amplifier Power Range
JBL engineers designed the GTO 629 coaxial speaker to produce strong, clear sound from a head-unit or amplifier capable of delivering up to 180 watts of power. This makes the GTO 629 an ideal match to systems powered with head-unit or factory-amplifier power levels. Even better, the speaker matches many of the GTO Series' amplifier combinations. As a result, it can keep up with systems that feature one or more subwoofers. And its great power-handling specifications also increase reliability over the lifetime of the speaker.
Vented Magnet Assemblies
The JBL GTO 629 speakers feature vented magnet assemblies on the woofer/midrange driver to help cool the voice coil.Keeping the voice coil cool adds to increased reliability from greater power handling, and helps eliminate power compression that can distort the speakers' sound.
Frequency Response Up to 21kHz
A wide frequency response that extends beyond 20kHz helps compensate for speaker-placement variations in your car and for human hearing deficiencies in the high-frequency spectrum above 15kHz.The result is that the JBL GTO 629 coaxial speakers deliver more of the full-range frequency response that you associate with great sound.
High Sensitivity (93dB@2.83V/1m)
High sensitivity allows a wider range of power to provide great sound without overdriving the audio system.With a sensitivity of 93 decibels at 2.83 volts/1 meter, the GTO 629 speakers achieve excellent volume and musicality with as little as 5 watts RMS.That means better overall performance with moderate power driving the speaker.And better performance makes the speakers an ideal replacement for factory speakers as well as for any aftermarket speaker installation.
Industry-leading Product Development and Evaluation Standards
JBL technicians specifically evaluate each GTO Series speaker model in the development stages for overall and vocal-range voicing, intermodulation distortion (IMD) and performance at the limits of electrical and mechanical design.We also test according to strict carmaker reliability standards, both in development and in final production.All of these details are virtually unique to JBL car speakers, as most competitors do not even come close to this level of detail and oversight.
True 3 Ohm Technology
Low-Impedance, three ohm voice coils compensate for the undergauged speaker wiring found in many of today's cars, and make the most of every watt your amplifier or head unit can deliver.
General Features:
Series: Grand Touring (GTO)

Type: Two-Way

Size: 6.5" 2-way speakers (pair)

Carbon-injected Plus One™ woofer cone with butyl rubber surround

Patented Plus One woofer-cone technology increased output with no extra power

Three-ohm voice coils allow compensation for added resistance by thin factory speaker wiring

Butyl Rubber speaker surround

Edge-driven, Fabric Soft Dome tweeter

High-temperature voice coil

Carbon-injected cone material

Adjustable 0 or +3dB tweeter level attenuation

Vented magnet motor structure cools the voice coil

Fiberglass-reinforced Plastic (FRP) basket

Enclosed magnet boot cover

Power range: 5-60 watts RMS (180 watts peak power)

Impedance: 3 ohms

Frequency response: 53-21,000 Hz

Sensitivity: 93 dB

top-mount depth: 2"

Grilles included

1-year warranty
Audio Specifications:
Power Handling (Peak): 180W

Power Handling (RMS): 5W-125W

Nominal Impedance: 3 ohms

Frequency Response: 53Hz-21kHz

Sensitivity: (2.83V/1m) 93dB
Dimensions:
Mounting Cutout Diameter (in): 5-1/16

Mounting Depth (in): 2

External Diameter (mm): 158

External Diameter (in): 6-1/4

Mounting Cutout Diameter (mm): 129

Mounting Depth (mm): 50
What's in the Box:
2x GTO629 Loudspeakers

2x Protective Grilles

2x Factory Location Mounting Adapters

Owner's/Installation Manual