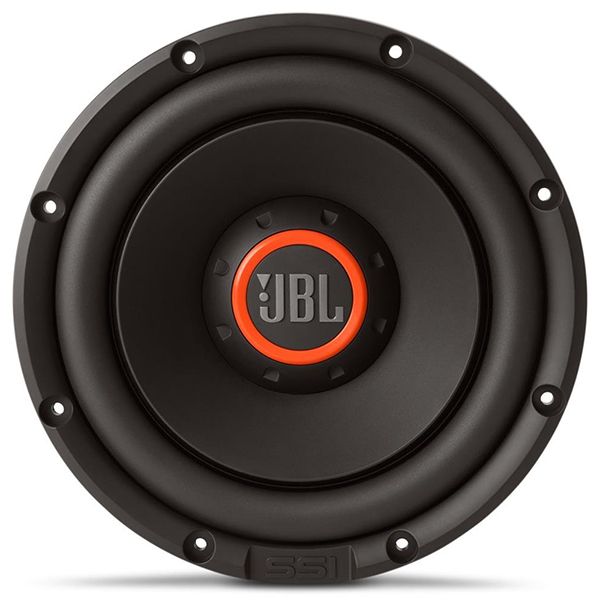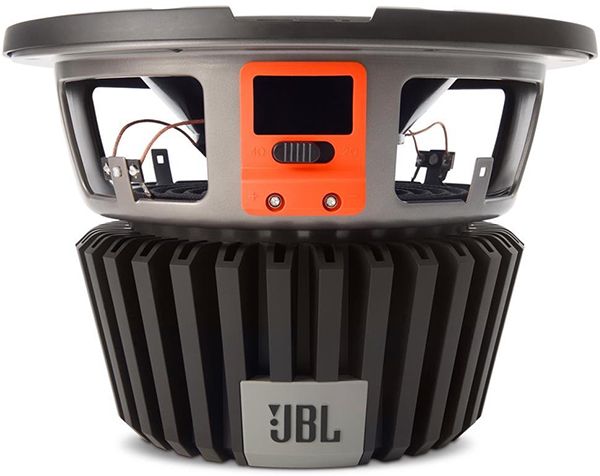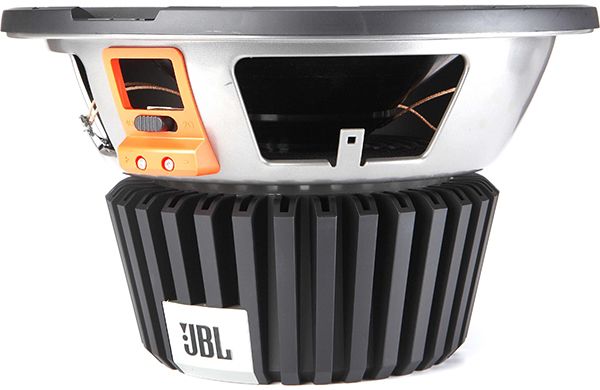 JBL S3-1224 12" 1500W Series III Car Audio Component Subwoofer Speaker System with 2-Ohm & 4-Ohm Impedance Switching
A subwoofer that puts you in the driver's seat
JBL believes sound quality should never be compromised. And Series III subwoofers make sure you don't have to compromise flexibility, either. That's because the high-performance, step-up subwoofers feature SSI™ (Selectable Smart Impedance), an exclusive impedance switch that lets you select the optimum impedance—2 or 4 ohms—for your system. Special aero-cooling design in the voice coil boosts power handling as well as reliability. And an oversized voice coil handles more power than common two-inch voice coils. More power, more reliability, more flexibility—and no compromising. When you're ready to step up, Series III is your subwoofer.
Aero-cooled voice coil
The Series Ill voice coil significantly increases power handling and improves reliability by going with the flow-of air.The woofer's motor channels air pumped by the cone movement past the voice coil, and the voice coil former exposes the coil's inner and outer surfaces to the airflow.This aero-cooling design is unique among aftermarket subwoofers.
Oversized voice coil
The three-inch (75mm) voice coil proves you don't have to be a heavyweight to pack a serious punch.It handles more power than conventional two-inch voice coils, yet it's lighter than four-inch voice coils.It strikes the perfect balance between thermal power handling and low mass.
Premium screw-down terminals
Power is the lifeblood of any subwoofer.The terminals on the Series IIl accommodate up to 8-guage wire (8.37mm2 cross section), which transfers low-resistance, low-loss power to the woofer, even over long wire runs.This ensures the subwoofer-and your music-has the power it needs.
SSI (Selectable Smart Impedance)
Most car audio system designs call for 2- or 4-ohm impedance.Series II subwoofers feature an exclusive dual impedance switch that lets you choose either load impedance option.Not available from any other manufacturer, SSI lets you reconfigure your system by simply flipping a switch.
Features:
12" high performance car audio subwoofer

polypropylene cone

nitrile rubber surround

stamped steel vented basket

handles up to 500 watts RMS (1500 watts peak)

frequency response: 25-175 Hz

sensitivity at 2.83V: 92dB

voice coil diameter: 2-1/2"

impedance: 2 or 4 ohms switchable

mounting depth: 7"

mounting height: 3/4"

sealed box volume: 0.75 cubic feet

ported box volume: 2.5 cubic feet

warranty: 1 year
General Specifications
Woofer Specifications
Audio Specifications
Power Handling (Peak): 1500 W

Sensitivity: 92 dB

Power Handling (RMS): 500 W

Frequency Response: 25 Hz - 175 Hz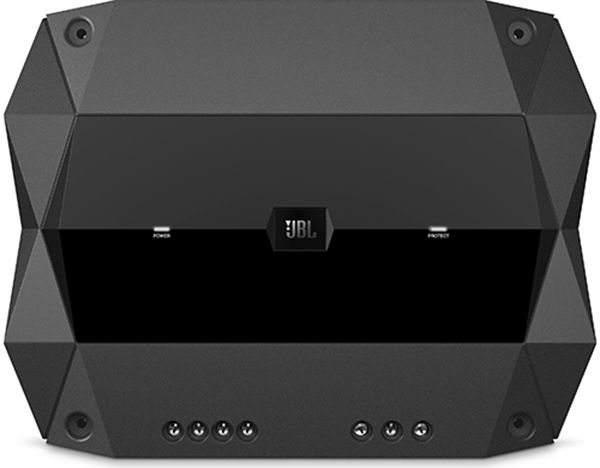 JBL Club 5501 2 Ohms 550 Watts High Performance Monoblock Subwoofer Car Audio Amplifier
Authentic JBL Power and Performance
New high-performance JBL Club amplifiers deliver world-class JBL power from a compact chassis built to fit in more vehicles, even when space is tight. Available in 4-channel, 5-channel, and mono models, Club amps feature variable crossovers and bass boost for precise control and tuning, plus high and low-level inputs that let them integrate with most car stereos. They're also compatible with several vehicle technologies, including many advanced driver assistance systems, and the Harman HALOsonic system, a suite of acoustic solutions that can simulate engine sounds for a better driving experience in hybrids and electric cars, cancel road noise for better-sounding music, and more.
Fill your vehicle with powerful sound, even when installation space for the compact JBL Club one-channel amplifier is limited. Variable electronic crossovers and high- and low-level inputs are ready for more types of installations than others in its class. The JBL Club one-channel amplifier is compatible with existing vehicle ADAS alert systems and HALOsonic mixing systems for comfort and safety.
Sleek But Strong
You can't deny it: this is a good-looking amplifier. But that's not all the JBL CLUB 5501 monoblock subwoofer amplifier has going for it. This bad boy also boasts enough power under the hood to run a serious subwoofer system. Here's the power breakout for you: 350 watts at 4 ohms and 550 watts at 2 ohms. That's a fair amount of power. This monoblock car amplifier can drive a high-performance subwoofer system without breaking a sweat.
Compact size
High and low-level inputs
Variable crossovers and bass boost
ADAS input
The full range CLUB amps feature an ADAS input which overrides the audio signal when connected to ADAS accessories. In addition, ADAS alert routing location can be assigned during amplifier setup using the panel mounted control.
HALOsonic mixing input
General Features:
JBL Club Series CLUB-5501 Class D Monoblock Subwoofer Amplifier

RMS Power Rating:

4 ohms: 370 watts

2 ohms: 550 watts

Total power output: 1300 watts

Pulse Width Modulated MOSFET power supply

LED power (green) and protect (red) indicators

Soft start turn-on

Class D amplifier technology for efficiency

Pre-amp and speaker-level inputs

3-way protection circuitry (thermal, overload, and speaker short protection)

Dual speaker terminals simplify the hookup of multiple speakers

Heavy duty aluminum alloy heat-sink for extreme heat dissipation

Slim Chassis design to fit more vehicles

Variable low-pass filter: 32 - 320 Hz, 12 dB/octave

Variable Bass Boost: 0 to +9 dB bass boost at 45 Hz

Fuse Rating: 30 A x 2

4-gauge power and ground leads recommended — wiring and hardware not included with amplifier

Dimensions: 9-5/8"W x 7-7/16"D x 2-3/8"H

Warranty: 1 year
General Specifications
Power Output, 4Ω: 370W RMS x 1, <1.0% THD+N

Power Output, 2Ω: 550W RMS x 1, <1.0% THD+N
Audio Specifications
What's in the Box:
1x Club-5501 Amplifier

2x High-level input wiring harnesses

2x spare fuses

2x 2-color brand stickers

1x Quick start guide